What Does An Excavation Contractor Do? – by Bob Mahoney Excavating Inc.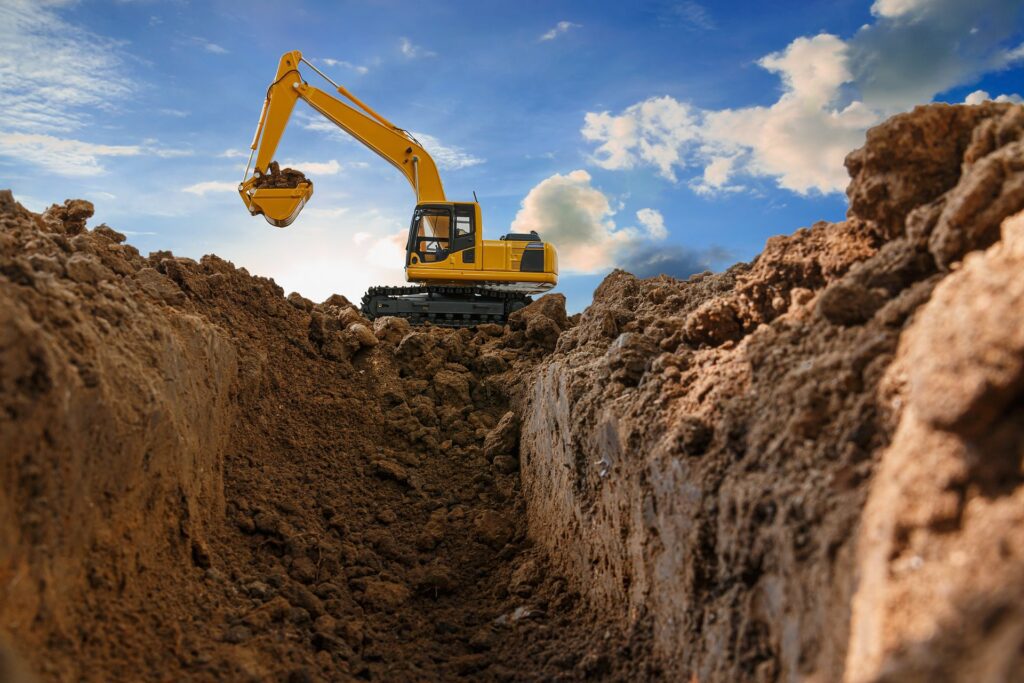 If you own or manage a commercial property, hiring a skilled excavation contractor is critical to getting the most out of your assets.The job of an excavating contractor isn't pretty in the slightest bit. But they are responsible for taking care of the initial land clearing and digging on your property. So how exactly do they do it, and how crucial is their service to you?I'll walk you through it step by step, and by the end of this article, you'll fully understand the roles excavating contractors play in a construction project's success.
What Do Excavation Contractors Do?
Excavating contractors are in charge of the initial physical phase of a construction project, from clearing the site to digging the building's foundation and utility lines.
Which means they are responsible for physically laying the foundation for the project. However, excavation entails much more than simply digging holes and shifting earth like the way several DIY bloggers portray it to be.
A task like digging may appear to be simple, but unless you have the needed competencies, you may not know how to safely disconnect gas lines, sewage connections, water lines, and electric lines before advancing, which can be incredibly dangerous.
As a result, excavating contractors are critical to the success of a construction project, as well as its long-term usefulness and environmental safety.
This is why it is critical to hire experienced excavating contractors, as they will have the required skills and the tools needed to tackle the challenges encountered in excavating.
Now that you have an idea of what excavating contractors do, let's go into more detail, so you'll know exactly what to expect from working with them.
What Services Do Excavating Contractors Provide?
Excavating contractors' jobs entails much more than simply transporting soil from one location to another. To ensure the success of the construction project, an excavating contractor handles several tasks.
This includes the following:
Preparation of the Site

Before initiating the foundation excavation, the construction crew will need to clear the area. Among other things, they'll have to clear trees and shrubs.
Depending on the area, they may also have to clear trunks, deadwood, massive rocks, or the remnants of a previous structure.
Tree roots will be dug out to a depth of one foot below the foundation. Any issues that develop as a result of removing objects that would block excavation or foundation laying must be carefully filled and consolidated.
Although it may appear straightforward, site preparation involves a series of activities that, if not performed properly, can result in significant construction delays. If it involves moving earth, an excavating contractor is a right person for the job.
Land Grading and Leveling

Site grading and terrain leveling are critical steps in laying the foundation for your new home or business.
Grading around the structure will enhance drainage, prevent basement floods and other damages. It also serves as a foundation for decks, patios, parking lots, and driveways, amongst other things.
The Use of Heavy Machinery

The general contractor has to determine specific measurements before the excavation process begins. The excavating operation can begin once that is worked out.
The process of excavation requires the use of heavy machinery to remove the earth from marked areas to lay the foundation.
Depending on the equipment the excavating contractor owns or leases, the contractor can use it to build and grade roads, dig ponds and sewers, excavate ditches for water or gas lines, and operate trenchers to insert flexible pipes beneath the earth without creating trenches.
Contracting as well as subcontracting

Excavation contractors are self-employed and categorized as subcontractors because they typically work as part of a larger project.
Excavation firms can be contacted for a specific job, such as digging a swimming pool, but the excavation contractor will not supervise the entire process.
General contractors frequently direct excavation contractors, who solicit bids, schedule subcontractors, and pay the excavation contractor once his part of the project is done.
Benefits to Hiring a Professional Excavating Contractor

Reduces cost in the long run
As a building owner, you may feel it is cheaper to do it yourself or hire inexperienced individuals to handle these tasks. The reality is, it won't.

Why?

This is because employing the services of excavation companies will substantially cut costs in the long run, as tools needed to get the job done are obtained in bulk, which will save you money.
Now, there is one thing to buy materials in bulk and another to maintain those materials for continuous usage.
Excellent Service

Hiring inexperienced folks or carrying out those tasks yourself may end up badly, as mistakes will be made and those mistakes could lead to costs that would have been initially avoided.
Not just that, but why would you take up the challenge of excavating yourself? Some tasks are better left for the experienced, and excavating is not a pretty task to handle inexperienced.
With professionals like Bob Mahoney Excavating Inc., you don't have to worry about a thing, as we have contractors that have the required skills, knowledge, and years of experience. We will ensure you continue focusing on your work, as we incorporate only effective and feasible methods to ensure the excavation process is carried out efficiently.
For any property owner in need of land care, hiring an excavating business is a must.
Bob Mahoney Excavating Inc. is a company that does much more than merely move dirt. We can provide you with both land clearing and demolition services.
Service Areas

In our service areas, Bob Mahoney Excavating Inc. takes pride in providing some of the most reputable excavating services.
If you reside in one of our coverage areas, you might be able to witness it firsthand.
We provide services to the following areas:
Bristol, WI, Algonquin, IL, Antioch, IL, Boone County, IL, Crystal Lake, IL, Fox Lake, IL, Harvard, IL, Hebron, IL, Johnsburg, IL, Lake County, IL, Marengo, IL, McHenry, IL, McHenry County, IL and much more.
If you need professionals with over 25 years of industry experience to lay a solid foundation for your construction project, you can simply send us an email at mahoneyexcav@aol.com or you can give us a call at:+1 (847) 489-3153, and receive a quote.